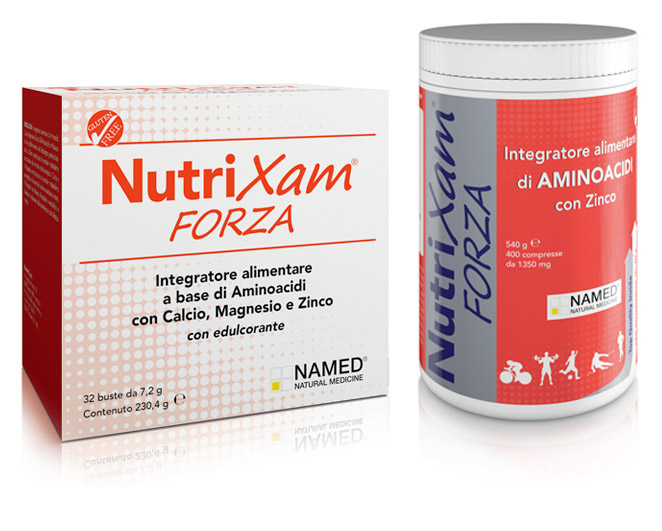 Amino acids food supplement with calcium, magnesium and zinc
NutriXam® FORZA is the mixture designed to support sport performances and physical activity at their highest level.
NutriXam® FORZA is a blend of essential amino acids useful in maintaining efficient synthesis and replacement of proteins during conditions of increased physical activity.
NutriXam® FORZA also contains zinc which stimulates collagen and protects cells from oxidative stress, balanced with calcium and magnesium, both useful for energy metabolism, for normal muscle contraction and also for the maintenance of bone tissue.
NutriXam® FORZA is available in two presentations – powder (sachets) and tablets. To be competitive, one should focus on quality and every production process must ensure the highest quality available. For us it is important to micronize the substances used both in powders and tablets because reducing the particles size improves the dissolution rate and the bioavailability of the active ingredients.
NutriXam® FORZA formula:
is absorbed in few minutes;
improves athletic performances and helps a proper recovery;
protects muscles from the risk of lesions.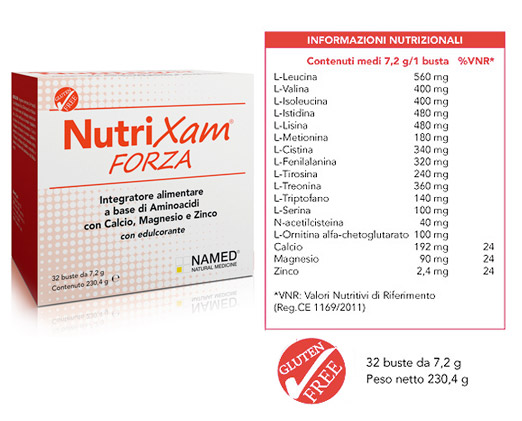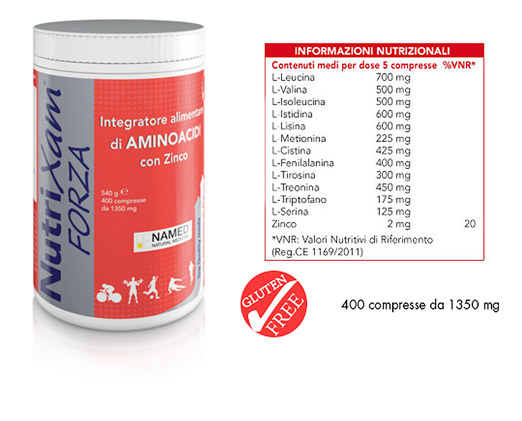 HOW TO USE
 2 sachets or 10-15 tablets daily, in 2-3 separate administrations, before and after the training session. The product maximizes its efficacy when taken between meals.
Product included in the Register of supplements of the Italian Ministry of Health – Code 76958 (sachets) and code 76960 (tablets).